Happy WIAW! Labor Day threw me off and I forgot it was Party time already so all my pictures are on the go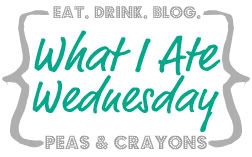 Breakfast:
Coffee & Juice! HARVEST SPICE IS IN THE HOUSEEEE… Now that it is September, I have begun to welcome pumpkin into my life again!
Mid Morning Snack: Pineapple Cho, Peanut butter and cereal
Lunch: Since I had NO FOOD in my house so I had to rely on ordering food at work.  I settled on a multigrain bagel, egg and cheessy goodness!
When I got home from work I was totally exhausted so I took a quick 20 minute nap and felt much better. Then it was RUN TIME. This is my 8th week of training and the milage is really starting to get SERIOUS, after Sundays Half marathon and yesterdays 7 miler, I wasn't suppper excited to run today.  Last night My foam roller kicked my ass and I slept in my awesome icy compression socks, so I was not all that sore today which was wonderful.
I decided to head to a local trail I have only ran on once last winter.  I am so glad I did because it was absolutely gorgeous and perfect running weather. I felt amazing one I got out there.
So gorgeous, No?
I finished the 4 miles in 40:14 with an average pace of 10:03, I felt great the whole time.
Once I drove home, I showered and the hubby and I hit the grocery store!  It feels good to have healthy eats in my house again!
I was too tired to cook once we put everything away so I heated up 2 slices of pizza Scott had left over from the weekend.
I love pizza. I also love candy corn pumpkins, and I cannot stop putting them into my mouth!!!
I could probably fall asleep right this second… GOODNIGHT