July 23, 2014
Wednesday are ALWAYS rest days for me and I really like it that way… HOWEVER, I am changing around my whole weeks training as I am super busy on friday and I leave for vacation on Saturday. Don't get me wrong, I LOVE to run on vacation and I WILL but I would like to just relax on the beach and sleep in my first 2 days there sooo i'm packing in the miles before hand.
Today I took on 3 miles again. My legs were sore's and heavy from yesterday ROCKIN RUN so I just kinda let me body go at whatever pace. I didn't look down at my watch until the 1 mile mark and realized I was going faster then I thought for how I felt. I was maintaining a standard for me of about 9.5 min miles.
It was crazy hot today and I needed to get my run in earlier then later as thunderstorms are predicted to roll in soon so I braved the heat and humidity and did the damn thing. I sweat my tooshy off, I hope literally!
I finished 3 miles in 28:40 with an average pace of 9:33
holla!
I need to get Saturdays long run in tomorrow before work, so tonight I need to spend some time stretching and foam rolling!
Happy Hump Day!
July 23, 2014
Every once in a while I eat a bunch of yummy and mostly photogenic food in one day. Saturday was one of those days.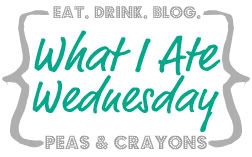 Breakfast:
Frozen strawberries, fresh cut watermelon, basil from my garden and lime juice from a fresh lime, tossed in a blender. I'm not big on measuring so I just sort of eyeballed it.
Lunch: Vegan Chicken Salad Sandwich from whole foods, which always rocks my world.
Dinner: Tortilla filled with black beans, guacamole, fresh salsa and plain chobani with a side of chips and queso.
Snack: multiple scoops of cookies and cream deliciousness.
all in all, it was a delicious day.
Quick game: If you could choose 3 foods to live off of what would they be.
Currently this is no problem for me… BREAD, CHEESE and ICE CREAM.
July 22, 2014
Today I ran a 3 mile PR!!!! ahhhh i'm still riding my little high
I went out to run some speed intervals in the heat of the afternoon.
I just never stopped the speed part, I WENT HARD!
The first mile was actually very attainable, I was breathing ok, I wasn't grunting .. YET. I ran the first 2 mile in about a 7:37 average. Which is the fastest I have EVER run 2 miles. The last mile had some hills so I jogged up the hills but gave it my all on the flatter parts.
I made A LOT of noise so I was happy to have the road to myself.
I even spit on myself.
It was NOT easy but I WANTED IT!
I finished in 23:33 and I wanted to die, I thought I was actually going to fall over and die.  I didn't..
SEVEN FIFTY ONE AVERAGE PACE.
Real Life.
Make every run count, right?
YES!
_____________________________
Want more Banksyface?!
July 21, 2014
Today I began training for my second marathon. Coincidentally ill be running the same marathon as my first, The Philadelphia Marathon but this time I'm going into it a bit smarter then last year.
I will be following the same training plan as last year. Hal Higdon's Novice 2. I will also be flipping all Mondays and Wednesday to fit my work schedule.

When I get out for my run it was a gorgeous 66 degrees and sunny. Perfect.
I felt great and kept it at an easy pace throughout the run.
I finished in 47:29 with an average pace of 9:29

I looked up my run from the first day of training last July. This last year has done wonders for my pace! My easy pace went from mid to high 10 minute mile to 9:30

I followed up my run with a perfect caffeine cherry limeade nuun mmmmmmmmm
I am READY for Day 2!
July 20, 2014
Popsicle Mold
Fresh Fruit ( in this case, watermelon, raspberry, blueberry and blackberry)
Fill with coconut water
Freeze
enjoy
…Summer
July 19, 2014

While I was out, kiya managed to get the lid off of the peanut butter jar and eat all the peanut butter. She must get that from her mama,me.
July 18, 2014

Every dog should have a bow tie collar.
July 16, 2014
It's been a while since I've dined on overnight oats. When I was prepping my food last night for today, I wanted something quick.
I didn't measure but I combined
Oats
Almond milk
Chia seeds
Cinnamon
& blueberries
Mixed and filled my almost empty cranberry sesame seed peanut butter jar
Mmmmmmmmm
July 16, 2014
I was on pinterest (<– click it for my PINS)  last week when I saw a shop on Etsy  (<– click for link)  that takes pictures of your dogs nose and puts the actual print on a necklace(or bracelet). I found a close up of my chance's nose and sent it in.  Yesterday this perfect necklace arrived. I love it so much and I miss him SO much…
July 15, 2014
This past Sunday and Monday I was invited to Atlantic City with my best friends family. It was perfect to get away and have some fun. There were pools and sunshine, drink and too much food.